With Iceland recently believing (albeit briefly), that they had made history by electing Europe's first female-majority parliament before a recount showed it had just fallen short, it raises the question of whether the UK is doing enough to promote gender equality in the business world.
From a political perspective, no European country has previously breached the 50% threshold for female members of parliament, with Sweden coming closest at 47%, according to data from the Inter Parliamentary Union. The UK itself only has 34.2% female representation across the House of Commons, whilst further afield, the US has an even lower 27.6% representation in the House of Representatives.
Just five countries currently have parliaments where women hold at least half the seats. Rwanda leads the way, with women making up 61.3% of the members of its lower house. It is followed by Cuba on 53.4%, Nicaragua on 50.6% and Mexico and the United Arab Emirates at 50%.
Similarly, although there are female leaders across the world including Germany's Angela Merkel and New Zealand's Jacinda Ardern, they are by far in the minority – and although the UK has had female Prime Ministers in the past (Margaret Thatcher and Theresa May), it is notable that the US has never had a female President.


Sports World

In a sporting context, Emma Raducanu's recent success has been one of the highlights of a fantastic sporting year for women including many successes of Paralympians and Olympians in Tokyo. We've also seen barriers broken from a refereeing perspective - Sara Cox became the first woman to referee a Premiership rugby match, Rebecca Welch is refereeing in the men's English Football League, Stéphanie Frappart took charge of the men's Uefa Super Cup Final in 2019 and Kateryna Monzul oversaw England's recent World Cup Qualifier against Andorra.
Females in Leadership Positions

Cranfield University's Female FTSE Board Report 2021 finds that 38% of FTSE 100 boards are women (up from 34% 12 months ago), continuing to exceed the Hampton-Alexander target of 33% by the end of 2020, whilst the equivalent figure for FTSE 250 boards is 35% (up from from 32% 12 months ago).
The progressive nature of gender equality politics within the workplace highlights a shift in cultural thinking, and as such there are methods that need to be reinforced in order to achieve greater gender diversity. The Cranfield report further highlights that traditional policies and procedures are a significant factor in holding back an organisation, and this is further impacted by the historical attitudes and behaviours that sprout from such policies.
Unquestionable Benefits

There is a plethora of studies that highlight the benefits of female leadership within organisations including a recent study into the performance of FTSE 100 companies finding that female CEO's brought in over $1.1bn more in revenue compared to male-led companies.
So, how can further gender equality be achieved across all levels of organisations?
BAME (Black, Asian, and Minority Ethnic Groups) make up just 6% of FTSE 100 CEOs, and 4.9% of Board level positions despite making up around 18% of the UK population.
Unconscious Bias and How to Beat it
Unconscious bias is the biggest issue which needs to be overcome in recruitment, and not just in relation to gender. Age and race are also key factors that are affected by unconscious bias.
BAME (Black, Asian, and Minority Ethnic Groups) make up just 6% of FTSE 100 CEOs, and an even lower 4.9% of Board level positions despite making up around 18% of the UK population.
This glaring issue can be resolved by organisations adhering to some of the following recruitment practices that proactively seek to reduce the risks of unconscious bias.
1. Setting Internal Targets
The setting of realistic internal targets can be helpful to deliver a proactive and positive mindset from the outset of an organisation's recruitment process.
Set targets for every key stage of the recruitment process, not just the final appointment. A good example is ensuring that at least half of an organisation's shortlisted candidates are female and at least 20% are BAME individuals. Whilst this may not always be achievable, having these targets established ensures a guaranteed cultural shift within an organisation and will proactively accomplish a more diverse recruitment approach.
2. Challenge the Existing Process
Organisations should be constantly challenging themselves and their existing cultural outlook and recruitment practices. Asking questions in relation to deep rooted practices within the organisation can help develop change. For example, self-examination could include:
Is the recruitment process suited to a certain type of person?
Does it exclude certain pools of talent from applying?
Does the promotion process allow certain individuals to display their strengths more easily?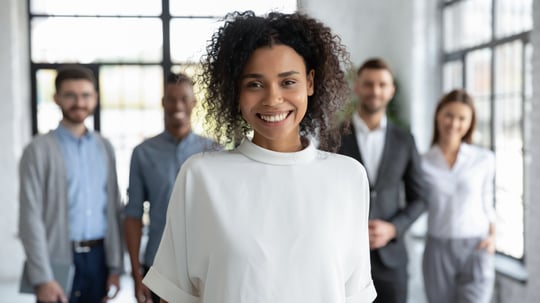 3. Job Advert Language
Unconscious gender bias can be seen most obviously in many job adverts. A study conducted by TotalJobs unveiled that the most prominent male biased words were found to be more active and dynamic, with female biased words being more passive in comparison.
The study further found that job advertisements for senior and executive roles contained language suited for the male gaze, whilst titles such as 'assistant' found language skewed towards female biased wording.
4. Blind Screening
A great way to reduce the risk of unconscious bias during a recruitment process is the application of blind screening at every suitable stage.
Blind screening is essentially the process of reviewing CV and interview responses without displaying a candidate's name. This enables judgement of a candidate's suitability to be based purely on their merit, skill, experience and qualifications.
Summary
There continues to be a significant gender imbalance within senior leadership roles in UK organisations. Whilst we are seeing progress being made, there is still much to be done to accomplish a 50/50 split of male and female representation.
Whilst applying the recommendations above will help reduce the risks of unconscious bias, ultimately it can't be completely eliminated and doesn't address any inherent and conscious bias from recruiting managers.
Hopefully, over time, we'll continue to see an increase in female appointments to senior leadership roles, with the inroads being made within the political and sporting contexts helping ensure the topic is staying high on the current affairs agenda.