We fully understand that recruitment is more arduous than ever owing to the global pandemic. Finding the right talent and recruitment for your business is an unenviable challenge for even the most seasoned company, especially with job vacancies now surging to their highest ever level on record.
For industries where finding the right talent with the appropriate skillset is hard to come by, headhunting is a tried and tested recruitment approach that allows your business to pinpoint and acquire the top performers for those hard to fill roles.
For those sectors and roles where finding the best talent is more challenging, headhunting is a proven recruitment method to acquire those really hard to find top performers.
What is headhunting?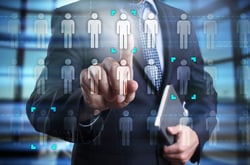 Put simply, headhunting is a proactive process of searching for eligible candidates in a specifically tailored role that is both confidential and comprehensive in its methodology. The rigorous research approach ensures all possible candidates are identified and approached regardless of whether they are actively searching for a new job or not.
So how can you harness headhunting in the midst of a skills deficit?
Taking a headhunting approach within your business will ensure the use of in-depth analysis that will identify all of the best viable candidates for your role. As a result, headhunting is an ideal method within the midst of a skills drought to find individuals who have the correct skillset but are not actively looking for a role.
The vast majority of high achieving candidates are well remunerated by their current employers, providing them with no reason to look for a role elsewhere. This is particularly the case in the middle of a skills shortage as employers are acutely aware of the difficulties in replacing their existing high-performing employees, so are keen to make sure they are retained.
Headhunting is an ideal recruitment methodology when there is a skills shortage, as it finds people with the right skills who are not actively looking for a new job, but would be open to a new opportunity when presented with it.
Nevertheless, despite not actively seeking a new role, many employees are open to new opportunities when presented with them. Taking on a new or different challenge can be an attractive proposition for an individual and a major motivator to move jobs.
This is where headhunting delivers such great value and success. By identifying and discreetly contacting candidates through strenuous and proactive research, those top performers can be presented with your attractive opportunity.
Summary
When recruiting for those hard-to-fill positions that require a specialist skillset, advertising the role and searching CV databases is unlikely to find the top performers as they are not usually actively looking for a new role.
Headhunting applies a much more proactive and rigorous research methodology to identify all of the possible candidates that might be suitable. In the midst of a skills shortage, it could be the perfect way to find the perfect person for your role.
About Us
At Executive Headhunters, we are experts at headhunting across all sectors for those niche, hard-to-fill roles as well as those business critical senior and C-Suite level leaders, so if you'd like to discuss the recruitment needs of your organisation, please feel free to give us a call on 0207 160 6996 or email info@executiveheadhunters.co.uk