In the uncertainty of a post Covid-19 world, adaptable leadership is required now more than ever. Leaders who have the ability to pivot and respond to an ever-changing landscape will be the ones who achieve the highest levels of success. Adaptive leadership emphasises learning, astute listening, a flexible mindset, building stronger relationships, and further developing a sense of authenticity and humility.
We conducted a recent study on Leadership Styles, where more than 400 leaders of global and local companies from 5 continents participated. We asked them to identify what they thought were the most important competencies an organisation's senior management team should develop to better navigate people and business post Covid-19.
Whilst strategic thinking and strong people leadership were unsurprisingly the top two, adaptable leadership and innovation came third.
1. Strategic Thinking
Clearly, strategic thinking has always been one of the most important competencies for a successful business leader in any business climate. Every organisation requires a clear vision and direction to be successful, along with a defined strategy to achieve it.
However, in a post Covid-19 world consisting of high levels of uncertainty, adaptability will also be a key component.
An ability to identify challenges and change the strategic direction quickly as a result will be a highly desirable skill.
2. Strong and Involved People Leaders
Our survey highlighted how important it is for people leaders to be genuine and involved. A greater emphasis should be placed on an authentic leadership style, and a relatable honest leader who involves and leads people by example.
Again, adaptability will be a paramount quality for people leaders. The best leaders will connect with their team and will be able to navigate the ambiguous environment in an agile way to achieve objectives efficiently but without neglecting the team during the process.
3. Innovation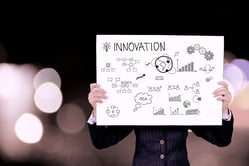 The pandemic itself demonstrated how innovative and adaptable many organisations could be. From moving swathes of workers to remote working, to ensuring Covid secure offices, leaders of many organisations across the globe proved how fast-paced and flexible they could be.
Some of these actions delivered some significant business benefits during the pandemic. The respondents to our survey found that the remote working landscape provided efficient and effective results although it remains to be seen whether these efficiencies are maintained if remote working becomes the norm.
The most successful leaders embrace and encourage innovative technology and training tools so that more people can be reached in new and effective ways. A great leader generates a culture of innovation by listening to their team and being open to learning and trying new things.
Our research also identified that the pandemic will lead to a significant shift in organizational culture in many businesses. An increase in working from home on a more permanent basis is likely for many organisations. In turn, this will require a more adaptive approach from leaders with an enhanced focus on the employee's need to increase virtual engagement.
In addition, virtual team meetings will grow and not just because of the increase in people working from home. Many organisations have realised benefits from significantly reduced travel costs and how the use of technology can remove the physical need to be in the same room as clients or colleagues in other offices.
Increasingly, this will also make leadership more challenging as it becomes more virtual, but again the most versatile leaders will adapt and embrace the change.
In today's environment, virtual leadership is about connecting with the daily lives of team members to inspire authentic connectivity between the person and the company.
Authentic leaders should inspire openness to real life situations of their team members (transforming vulnerability into authenticity), and during calls seek to connect with their environment and not just with the person. For example, having family noise in the background while they are chairing meetings, asking questions, and making decisions regarding projects, fosters an environment of inclusivity and work life balance.
Summary
In a post Covid-19 world, the most successful leaders will be open to change and view the adoption of new practices as an opportunity for further development, increased efficiencies, and an opportunity to strengthen teams. They will commit to their team, define a purpose and solidify a community atmosphere.
Businesses should encourage and recognise all levels of leadership with an emphasis on trans-generational leadership. From the practitioner, to a manager, everyone should strengthen their leadership competencies across the organisation to develop a culture of inclusive leadership and shared accountability which will result in strengthened commitment and performance.
About Us
At Executive Headhunters, we are experts on Leadership Advisory and appointing C-Suite level leaders so if you'd like to discuss the leadership capabilities of your organisation, please feel free to give us a call on 0207 160 6996 or email info@executiveheadhunters.co.uk