In the couple of years before the Covid-19 pandemic hit, top talent became increasingly difficult to source in the UK. Despite the government's furlough scheme (which covered 10 million people from the start of the scheme to the 13th of December (the latest data available)), 2020 saw a huge number of redundancies.
As a result, many fantastically talented people have found themselves out of work due to the unprecedented impact of the pandemic on global economies.
Recruitment on the rise again
As the UK rolls out the vaccination programme and starts to take steps out of lockdown, business confidence is beginning to grow again.
The latest CIPD/Adecco Labour Market Outlook highlights that unemployment in the UK could now be close to its peak. The survey of over 2,000 businesses shows that the share of employers planning to recruit in the first quarter of 2021 has risen to 56%.
"Our findings suggest that unemployment may be close to peak and may even undershoot official forecasts, especially given the reported fall in the supply of overseas workers," Gerwyn Davies, CIPD
The survey also identified a return to positive figures for the net employment score, which measures the difference between the proportion of employers who expect to increase staff levels and those who expect to decrease staff levels. This has risen to +11 from –1 last quarter and is the first time since the pandemic began that the figure has entered positive territory.
Be the front-runner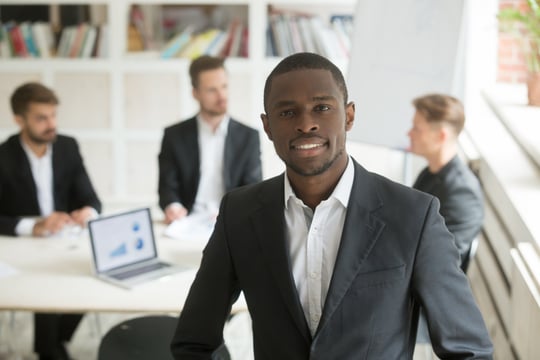 There are also clear sectors with strong hiring intentions. For example, healthcare (+40), ICT (+30), and business services (+23), are showing very high levels of employment confidence, with the finance and insurance sector also displaying increasing positivity.
So if you're one of the businesses preparing to staff up again as the economy rebounds, now is the time to get started. The most talented people will be snapped up first, so it's vital to be a front-runner and ensure that your business doesn't drag it's feet.
How to attract the top talent
Attracting the best performers in a competitive market can be a real challenge but it doesn't always come down to paying the highest salary. With so many businesses offering similar salaries, packages, and titles, what's the best way for a business to stand out amongst their competitors as a great place to work?
The answer is to have a clearly defined Employer Value Proposition (EVP) that promotes your brand and attracts high quality talent as well as retaining the existing top performers.
An EVP consists of a number of different elements - too many to go into in any depth here, but we have produced a White Paper on the topic which provides much greater detail. In short however, some of the main elements of an EVP that will help attract the best candidates include:
Job Advert - having a really clear and succinct advert to attract the right quality candidates is vital. It needs to be engaging without being over the top creative. Don't use a fancy job title that no-one understands which will reduce the likely number of candidates that will express interest in the first place. Ensure the advert is placed in the media channels and on the job boards that your likely candidates are accessing.


Careers Website - a careers microsite is a fundamental part of an EVP and plays a crucial part in enabling you to communicate all aspects of your EVP and really shout about who you are. This should convey your core values and main employee benefits.


Social Media - existing and previous employee (and customer) reviews via the plethora of different social media channels are playing an increasingly important role in attracting candidates. Sites such as Trustpilot and Glassdoor are providing candidates with an insight to your brand like never before. Furthermore, candidates are increasingly undertaking in-depth online searches to discover what your brand is truly like from individuals who have first hand experience.


Job Application Process - ensuring the application process is as easy and as slick as possible will help engage candidates in the very early stages of the process, and create a positive view of the organisation. Candidates will be put off very quickly by any additional detailed forms that need to be completed over and above their own CV and covering letter.

The ideal process should utilise an Applicant Tracking System that is fully integrated with your website. This will enable a candidate to apply directly from the jobs page on your website and enable you to track and communicate with every candidate at each stage of the process. Automated emails and processes can also be put in place to ensure a candidate is regularly communicated to and continually kept engaged.


Interview process - if a candidate gets through to the interview stage, it's really important to provide them with all of the information they need to prepare as well as possible. This includes the obvious information such as the date, time and location of the interview, but also any additional details they might find helpful. For example, letting them know the format of the interview (e.g. an informal discussion, or more detailed competency questioning), and any information including timings for presentations they may be required to give. Providing constructive feedback post-interview is also critical.
The importance of an EVP
The importance of investing in developing a strong employer brand cannot be underestimated in terms of your ability to attract high quality candidates, retain the best performing employees and reduce your overall recruitment costs as the stats below highlight.
95% of candidates identify a company's reputation as a key consideration when exploring new career opportunities

66% of job seekers want to know about a company's culture and values above all else when considering changing jobs

40% of passive candidates would accept a new position without an increase in pay if the company had a good employer brand

50% pay increase on what a candidate is currently earning is often required before a candidate even considers a job with a bad company
The top 5 benefits of a strong EVP include:
Increased candidate attraction
More successful recruitment
Competitor advantage
Greater employee engagement and retention
Creation of brand ambassadors
So if you want to win the race for the top talent, try to make sure you have as many elements of a strong EVP in place as possible.
If you'd like to discuss your recruitment or EVP needs in more detail, please feel free to give us a call on 0161 926 8686 or email info@executiveheadhunters.co.uk